LIMA, OH (WLIO) – Nursing home workers are demanding that Governor DeWine listen to their voices.
Last year, Medicare ranked Ohio's nursing home industry 39th in the U.S. for quality. In response, Governor DeWine created the Nursing Home Quality and Accountability Task Force to hear directly from nursing home residents and their loved ones about their experiences and to issue a report of its findings by the end of the year. However, no member of the task force works regularly at the nursing home, and given what they say are extreme working conditions, nursing home workers are angry because they feel they are being ignored.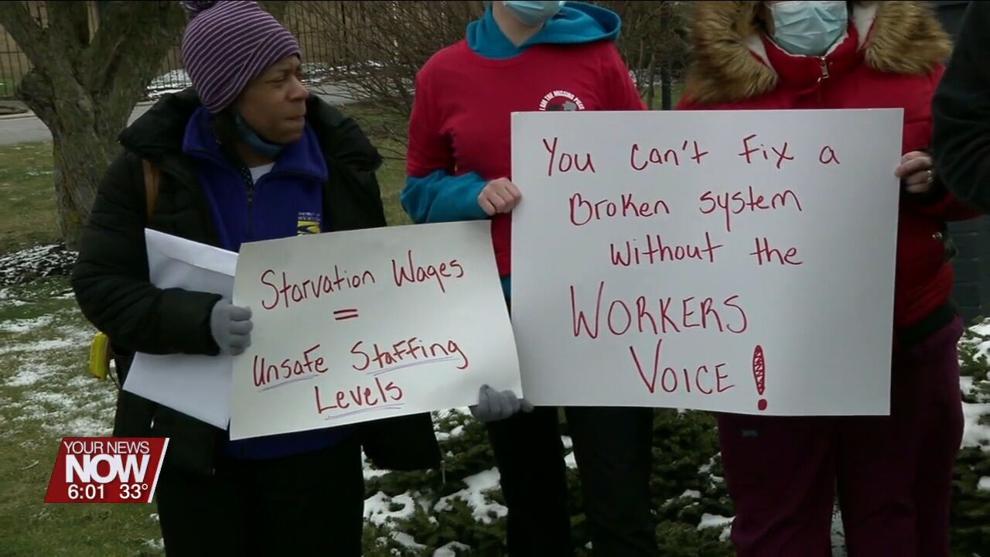 "I actually represent 14 nursing homes, administrative organizers from Lima to Toledo. Many of our buildings now have an STNA ratio of one to nearly twenty to twenty-five. It's ridiculous, it's not safe for anyone right now, including everyone. residents and workers," said Jennifer Anderson, administrative organizer for Carecore in Lima.
More than 35% of health care facilities statewide are still understaffed, continuing a pattern long established in Ohio.
"It's very important that workers are heard in these conversations, and they are not part of the conversations with this task force that has been developed. So we're here to call out the hypocrisy of the nursing home task force, except nursing home workers are part of the conversation and have a guaranteed seat at the table," said Vanessa Dalesandra, union director.
The Nursing Home Quality and Accountability Task Force will hold a conference at the Wood County Senior Center in Bowling Green on Tuesday, March 28, and Ohio nursing home workers plan to continue protests across the state.
Copyright 2023 by Lima Communications Corporation. All rights reserved.
https://www.hometownstations.com/news/nursing-home-workers-protest-gov-dewines-nursing-home-quality-and-accountability-task-force/article_bb35e95a-c2af-11ed-b2e8-f71a528ad1d7.html